Help to Buy bought us extra years in our family home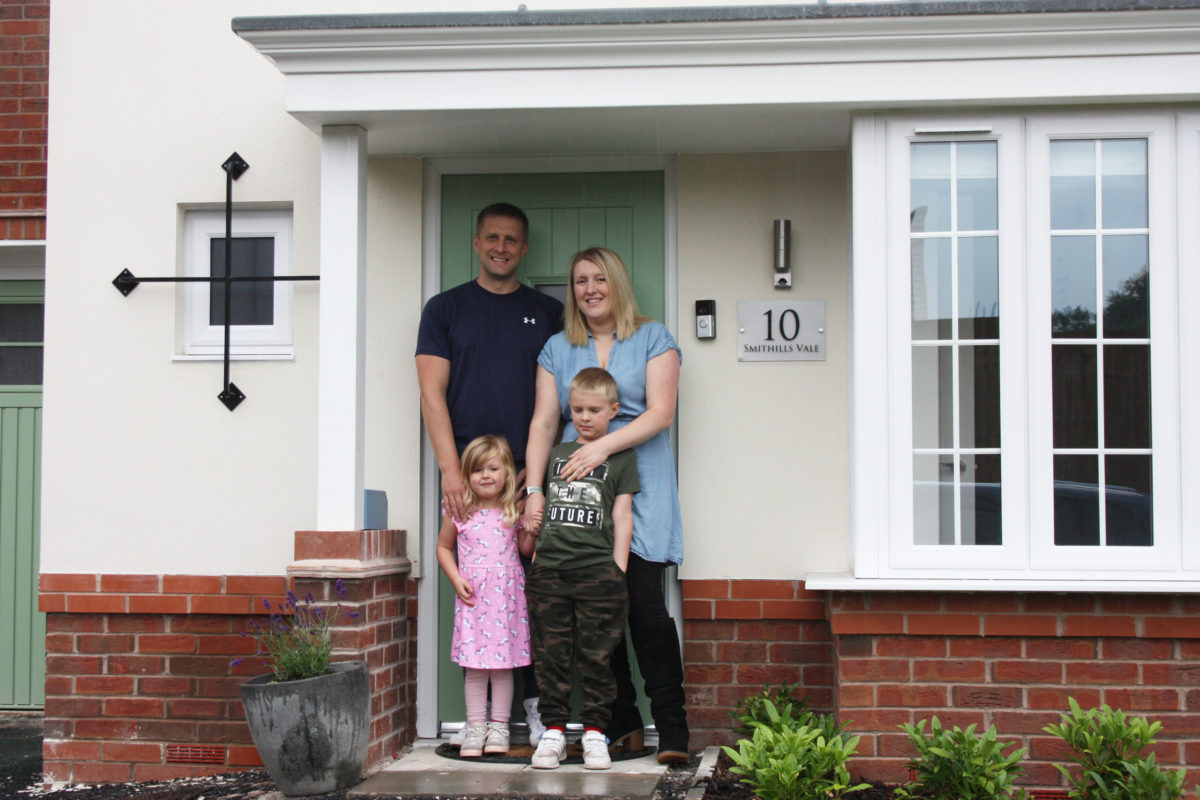 Moving day in lockdown
The Stickland family moved into their forever family home at Smithills Vale in Bolton the very weekend our country succumbed to Coronavirus and went into Lockdown… it was very nearly meltdown for Gary and Claire too. They had given their notice on their rental property, exchanged contracts on the new house and just needed the legal completion to happen so they could move into their first mortgaged dream home with their children.
It is of course a happy ever after tale to tell and Claire said apart from the physical and mental stress of 'isolated' moving day with no removal helpers or childcare options, the home buying process was straightforward and quick.
Team work
"Everyone we dealt with at Eccleston Homes from talking about the government's Help to Buy scheme available at Smithills Vale to the sales consultants to the site manager and team, they've all been easy to talk to, and still are. The process has been seamless."
"For us, we never thought we'd be living in a four-bedroom detached home like this right now. We expected to be saving for several more years before it could happen.

New home, dream home
"I'd spotted Smithills Vale because it's in a lovely part of Bolton, it has great schools too for our two young children. I hadn't come across an Eccleston Homes development before and Smithills Vale stood out for its individuality. I was pleasantly surprised by the space around the houses, their period style and the development location.
"On a whim I thought I'd pop in to gauge the financial possibility of living here with no expectation. Yet it seemed so simple. We were eligible for Help to Buy and a mortgage.. so from seeing the houses in November 2019 to the arranged date of moving in in April 2020, it was a fast and exciting time for us as a family. Without Eccleston's Help to Buy offer, we would not have been able to consider moving here."
For self-employed childcare provider Claire and her construction manager husband, Gary, the prospect of a large detached home with garden was their long-term dream. The flexibility of the open plan layout and patio doors out to the garden, plus the separate front room snug fits perfectly with Claire's childcare provision as well as their personal leisure time.
Lockdown has its perks too
Lockdown did buy the Sticklands time to settle and make their new house a family home, they have created a beautiful garden and enjoyed being able to hang pictures on walls for the first time. They are content and still amazed by their fortune.
But they are also grateful to Eccleston Homes for their 'above and beyond' approach to physically enable the move on time.
The extra mile
"With suppliers and subcontractors closing down, they had to pull out all the stops to get people to continue to work (safely) to ensure that the property was completed in time to achieve the legal completion date."
Eccleston was even able to work with the flooring contractors to complete the install over the final weekend.
Eccleston's usual home demonstration and handover process was completely updated to be in line with government guidelines. Working to a minimum contact approach Eccleston rewrote its procedures and communicated these to the Sticklands.
"We moved under unique and challenging circumstances and we will never forget the time we moved on day one of Lockdown with our children and a van! But despite all that, Eccleston did everything they could to make it happen for us. They recognised we had to move that day as planned and they made it happen for us! I can't wait for the children I look after to come and visit very soon.."