<< Back to News & Inspiration | Home inspiration
10 Best houseplants for your new home in 2021
February 12th, 2021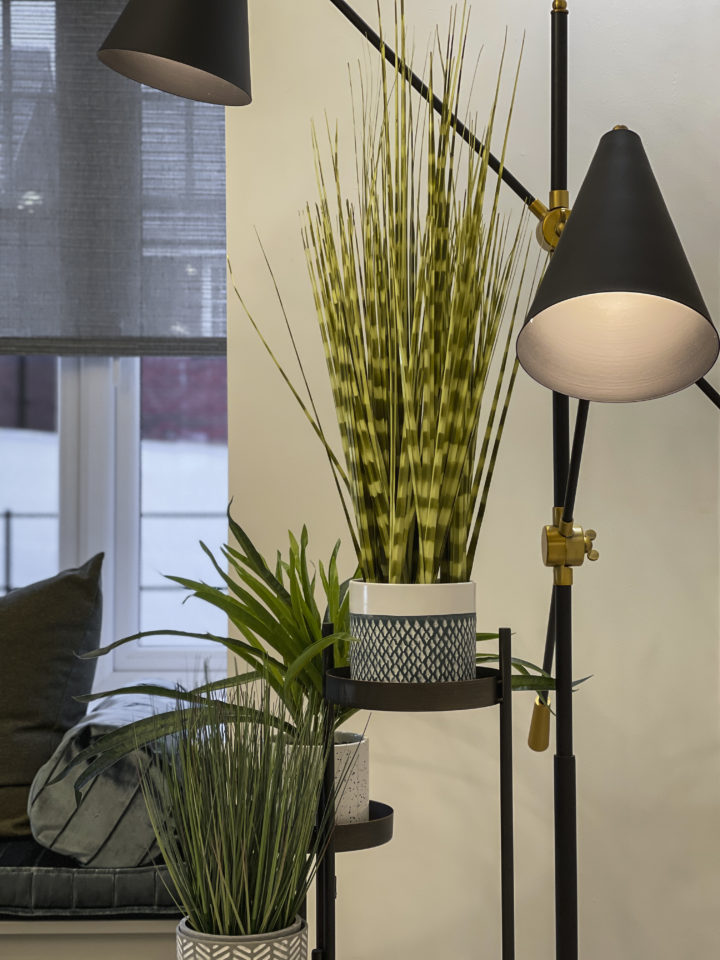 Houseplants are so popular in the UK. Up and down the country, we can't get enough of our indoor greenery, whether it's to brighten up our home office or bringing a garden feel into a mews home.
Houseplants are a national trend in our homes, adding style and decoration as well as boosting mood and productivity, there are endless benefits of bringing plants into our homes.
From succulents to ferns and trailing ivy, we've listed some of our favourite picks that will help breathe life into a dark bathroom, increase headspace in your office or just to look very cool in your living room.
Out top ten houseplants for every new home in 2021:
The crinkly, curvy nature of this plant's light green leaves make a perfect accompaniment for a bathroom, with their underwater wavy nature. Equally they would soften and break up the corner of room or a shelf with their relaxed vibe.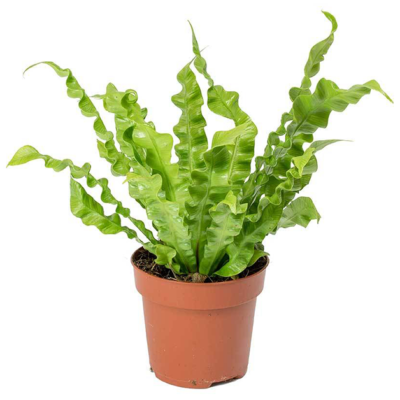 2. English Ivy
It's a classic but not to be overlooked. They love bright light and some humidity, so another good bathroom option. We love their diversity and varied colours, but also because they are easy to care for whilst bringing the country garden feel into your office space perhaps? What's more, this stunning plant has so many health benefits. It is used to treat respiratory conditions, as well as having anti-inflammatory and antioxidant qualities!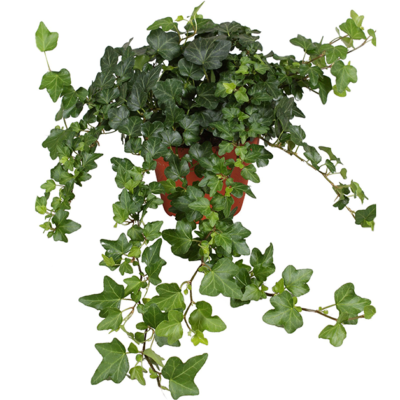 A smaller pot plant, we love this plant's unique shaped leaves. Just looking at it makes you feel happy, with its outerspace UFO features! If you're looking for a talking point in your new home and want to be on trend for 2021, this plant needs to be top of your list.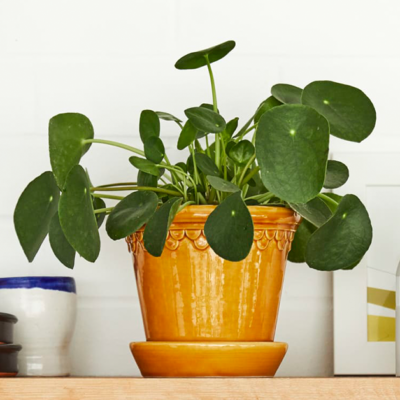 4. Oxalis
This beautiful purple-shade plant has amazing leaves that are known to some as the 'false or purple Shamrock', but what's really cool about the Oxalis? Its leaves are edible! Spruce up your salads whilst growing this lovely and super easy plant in your kitchen.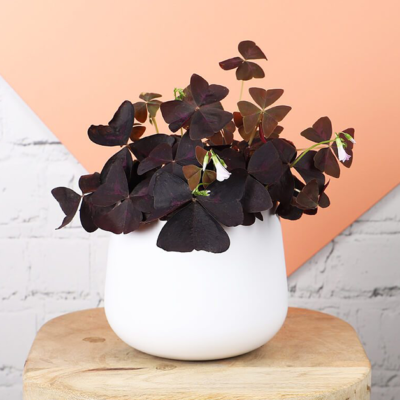 5. Prayer Plant
This plant's leaves open and close like hands in prayer position, what a lovely calm and harmonious notion! Being a rainforest native, this plant's luscious green leaves are very happy in warm and humid environments, so another excellent choice for the bathroom perhaps.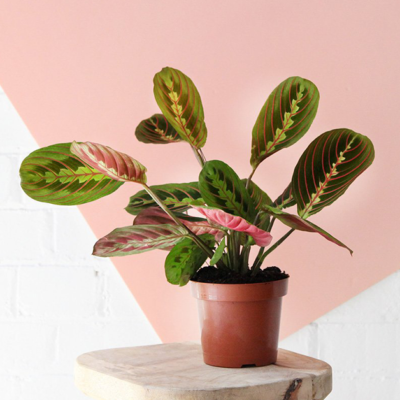 6. Giant White Bird of Paradise
Perfect to make a colonial statement in a room, this amazing larger houseplant can look so stylish in a bohemian pot or a wicker-style. It's large fan-like leaves add grandeur to a room and also help fill a redundant space whilst looking super cool.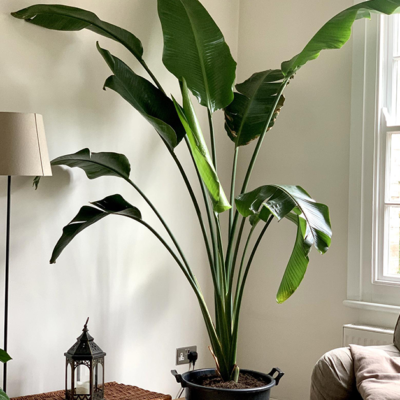 This beautiful trailing plant is a succulent and therefore can handle minimal watering. It's also easy to propagate and spread around your home. We love the unusual effect and texture its little green baubles creates in any room, whether up on a shelf, in a hanging plant pot or creeping along a desk or kitchen worktop.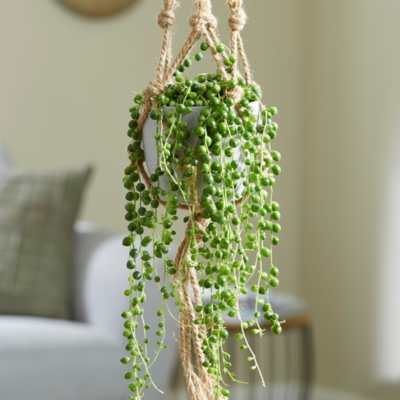 8. Boston Fern
An old favourite and for lots of reasons. The Fern is so easy to care for so is great for beginners in the plant department. Like the English Ivy, the Boston Fern has lots of health benefits as well as keeping homes free of toxins. It is also said to be good for people with dry skin conditions as it helps add moisture to the air.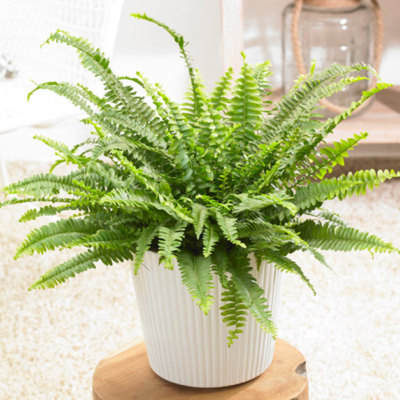 Everybody enjoys a cactus and for us, the Bunny Ears brings dessert vibes to any bohemian-chic room. This plant can stand up as a feature in a room, growing up to two feet indoors, so it isn't just a shelf filler!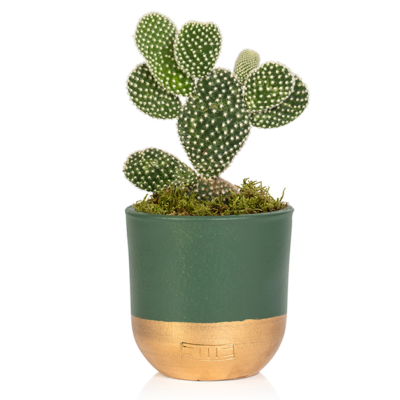 10. Aloe Vera
Last but not least, Aloe Vera. This plant is another succulent and therefore thrives in bright rooms with plenty of natural sunlight. It feels very 'back to nature' and medicinal to have access to your own pure aloe vera to soothe any irritable patches of skin. Typically they look lovely in a bathroom.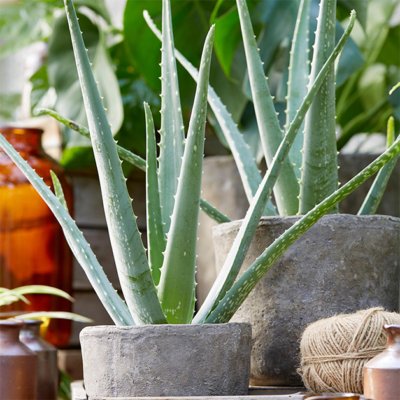 Eccleston Homes Plants: