<< Back to News & Inspiration | Finance & Advice
Busting Mortgage Myths
January 31st, 2023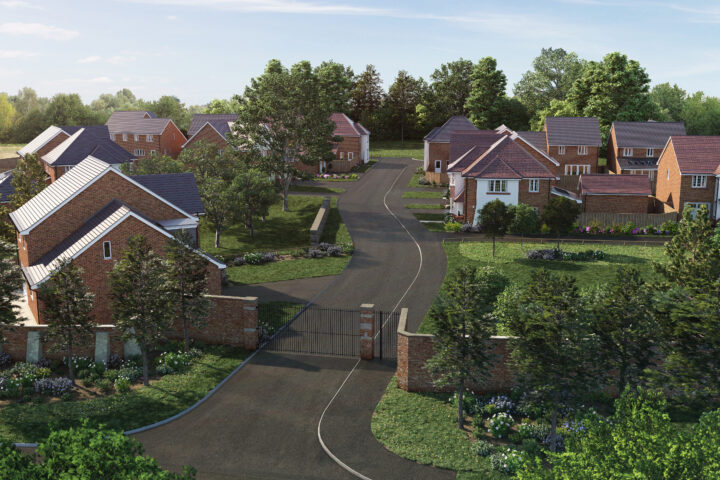 Myth Busting the 6% Mortgage Rate
Mortgage rates are a crucial factor to consider when buying a home. Low rates can result in significant savings over the life of the loan, whilst high rates mean you might not even be offered a mortgage in principle on that new dream home you're looking to purchase.
We all know that mortgage rates have increased, over recent months, peaking at around 6%, and whilst many media outlets continue to report on this figure, how realistic is 6%?
To answer this question and others, we discussed this with Joe Booth, a qualified mortgage advisor for over 10 years and Senior Business Development Manager at New Build mortgage and insurance protection provider RSC.
Did mortgage rates really hit 6% and if so, why?
In a nutshell, yes, mortgage rates did hit 6%. This happened in October 2022 when Liz Truss and Kwasi Kwarteng released their famous mini budget on 23rd September. "Their mini budget sent shockwaves through the marketplace and caused lenders considerable concern" Joe explains.
He goes on to say "Lenders base the rates they charge on Swap rates, and with the dramatic proposals of Kwasi's mini budget this caused markets to spiral. The result was banks and lenders were unable to predict where Swap rates might increase to and therefore what their risk would be. To bring this risk factor down, lenders raised interest rates and removed some products from the market."
So that explains why 6% was so widely reported, but is that where we are now?
Are 6% mortgage rates still realistic?
No, absolutely not. Whilst Liz Truss caused the issue, her resignation and the subsequent changes enacted by Rishi Sunak have calmed the markets. Since then, interest rates have been gradually reducing. Some might even call this an acknowledgement the markets overreacted!
Joe also points out that "6% was only the very worst-case scenario for mortgages with the highest Loan To Value" (LTV for short. Think of this as a number that represents the risk to the lender. The higher the LTV, the higher the risk, the higher their interest rate).
To illustrate this, Joe shared with us the current interest rates for the most common LTV brackets lenders usually work to.
| | |
| --- | --- |
| LTV | Interest Rate |
| 95% |  5.09% |
| 85% | 4.77% |
| 65% | 4.51% |
Whilst these rates are not as low as before the mini budget, it's important to note those low rates were equally as unusual and seen by many as temporary. What we're now seeing are more typical, sustainable rates. It's also worth pointing out the current rates represent a significant reduction and cost saving to those seeking a new mortgage, or current property owners looking to renegotiate an existing one.
A further indication confidence is returning to the property market is the reported increase in property value by Rightmove, helping to reverse the house price fall seen in November and December 2022. The report also highlights that whilst January typically sees an increase in house prices after the quite pre Christmas period, this years increase has been the biggest since 2020.
What about the bank of England's decision it raise mortgage rates on 2nd February 2023?
Whilst it's true that the Bank of England has increased interest rates to the highest levels in 14 years, most lenders were actually expecting this and factored it into their rates. As such, many are predicting that mortgages will continue to stabilise and fixed rate mortgages will continue to come down.
What does this mean to those looking for a mortgage?
The most significant benefit of these reduced rates is it makes home ownership more affordable as lower interest rates mean your monthly mortgage payments are lower. This in turn can make a significant difference in your overall financial situation and therefore how much a lender is willing to loan.
The result is more people can afford to buy homes, or they can afford a more expensive home than they would have if mortgage rates were at 6%. Additionally, with a lower interest rate, you will be able to pay off your mortgage faster, which can free up more money for other expenses or investments.
Another benefit of lower mortgage rates is that it can make refinancing your existing mortgage more affordable. If you currently have a high-interest mortgage and are looking to refinance, a lower interest rate can result in significant savings. This can also help you to shorten the term of your loan, which can save you even more money in the long run.
What advice would you give to someone looking to purchase a home?
Firstly, speak to an expert. At Eccleston we've purposefully partnered with RSC as it allows us to offer a free mortgage advice service to anyone looking to purchase one of our homes. There's no obligation to use them however, so if you already have a mortgage advisor feel free to speak to them.
The most important thing is you speak to an expert.
Why is speaking to a mortgage advisor so important?
We'll let Joe answer this one!
"A good mortgage advisor will seek to understand your individual circumstances and present you with a range of products that best suit your needs. This means they'll look at the products from all lenders, not just one. If you go directly to a bank or building society, however, they will only show you their products" explains Joe. This means you might not be presented with the best product for you.
Joe also says that "Each lender is setup to accommodate different types of financial situation. So as well as not seeing a complete summary of the products out there, you might unwittingly speak to a lender who's not best suited to your specific circumstances".
So advisors are not only their to give you a full picture of what's available, they're also trying to match your specific situation to the lender who specialises in that area.
It's not just about getting the best deal however (although that's extremely important!) The world of mortgages, interest rates, and LTV's is alien to most buys with them only needing to stray into these quagmire of terms every few years at most. Mortgage advisors provide industry, cutting through jargon and assisting with issues should they arise.
What good deals are current available?
This is a tough one to answer but in this instances it's good news for buyers. Markets are continuing to stabilise and rates continue to fall. As such, any deals we publish today will likely be out of date before the end of the week.
For example, on the day of publishing this article Leeds Building Society are offering a 2-year fixed rate 90% LTV mortgage with a 4.99% interest rate.
This is just another reason why speaking to an expert is so important.
Joe explains he's also started seeing a shift from the typical fixed rate mortgage to a variable rate mortgage. "Variable rates had long been shunned by many buyers as they opted for fixed rate mortgage to lock-in low rates. We're now seeing people shift to variable rates, however. This is because many are predicting rates will continue to fall and variable mortgages allows them to follow these down, rather than fixing at a higher rate".
Summary
Overall, these new, lower mortgage rates present an excellent opportunity for those looking to purchase a home or refinance their existing mortgage. With lower interest rates, homeownership can be more affordable, and refinancing can result in significant savings.
Additionally, lower mortgage rates can be beneficial for the overall property market and can provide a solid long-term investment.
So, if you're in the market for a home, contact our sales centre to book a free advice session. Now is certainly a great time to buy, and being partnered with RSC allows us to offer some great offers such as their free mortgage advice service, expert industry knowledge, and seasoned experience when it comes to helping people purchase a new build home.