<< Back to News & Inspiration | News & Events
Eccleston Homes buries new time capsule in Ramsbottom
March 12th, 2016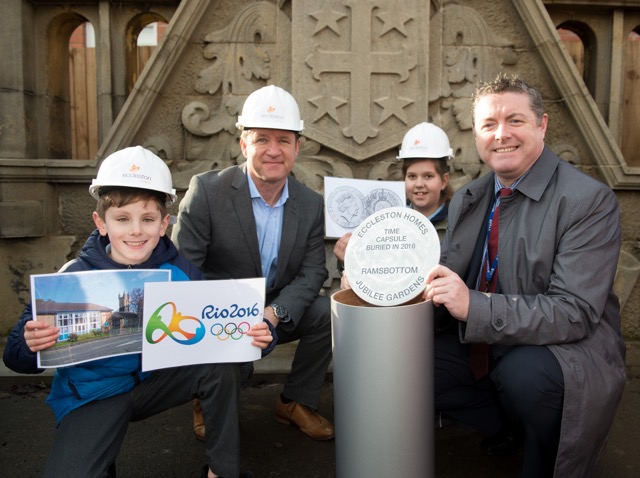 North West housebuilder, Eccleston Homes, has made history at its new homes development, Jubilee Gardens, Ramsbottom, with the burial of a new time capsule on Thursday 11th February 2016, together with Ramsbottom Heritage Society and St. Andrew's Church of England Primary School
A great turnout of local neighbours, school children and teachers, Eccleston Homes directors and homeowners joined in the celebrations to mark the discovery of a time capsule buried in 1897 by Lady Aitken
Jubilee Gardens consists of 13 four and five-bed 'Arts & Crafts' style homes created in the grounds of the former Aitken Memorial Hospital (built 1898), latterly named Ramsbottom Cottage Hospital.
A pediment from the original hospital was recovered. It has been restored and replaced at the Jubilee Gardens site, at the entrance to the new homes development.
The three parties (Eccleston Homes, Ramsbottom Heritage Society and St. Andrew's Church of England Primary School) gathered by the pediment to bury a new time capsule, containing items gathered by the school children and Eccleston Homes to represent the 21st century and the year of its burial. Items included a photograph of the school, 2016 coins, a picture of the Rio Olympics logo, local newspapers and a brochure for Jubilee Gardens.
Because the pediment shows the Aitken family emblem, Eccleston Homes also tasked St. Andrew's Primary children to design their own family coat of arms. On Thursday 11th February they awarded the three best designers with book vouchers. The three winners joined Year 6 pupils at the time capsule burial ceremony.
This weekend, 13th and 14th February, the Jubilee Gardens Show Home will open to showcase the quality and style homeowners can expect across every Eccleston Homes development:
Contemporary interiors, including the Eccleston Homes signature bi-fold doors leading from an open plan kitchen to the garden.
Top quality specification and fit out – Villeroy & Boch sanitaryware, Porcelanosa and Kam Kitchen designs
Kevin Marren, founder, Eccleston Homes, said last Thursday at the event: "A warm welcome to you all this morning! We are delighted to see so many people of all generations to mark an important and very special occasion, the burial of a new time capsule at our new Eccleston Homes development, Jubilee Gardens.
"We'd like to thank Ramsbottom Heritage Society for bringing to life the history of this special piece of land.
"We also welcome St. Andrew's School here. You've all made so much effort to choose objects for the time capsule that will make history in another hundred years' time, and it might even be your children and grandchildren that live here and discover your time capsule!"
Damian Marsh, headmaster, St. Andrew's Church of England Primary School, said: "The children were excited and enthusiastic about creating their own history.  They came up with some great ideas to fill the time capsule from a TV Times to photographs of the school, local newspapers and coins. We even had a Guiness Book of Records on the list."
Tony Mosedale, committee member, Ramsbottom Heritage Society, brought along the original time capsule. He added: "It was a wonderful occasion to mark the discovery and restoration of important historical features of Ramsbottom, whilst making our own piece of history with Eccleston Homes and its Jubilee Gardens development, the school children and the locals that had visited the hospital as children themselves."